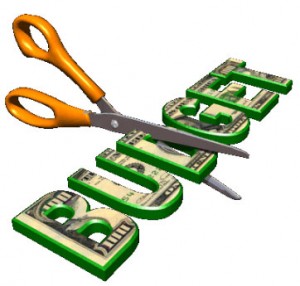 by George Landrith
America's national debt is dangerously close to $16 trillion. This is a staggering figure. It is impossible to comprehend in concrete terms. But we are rapidly approaching the point of no return, where economic collapse becomes our fate — just like Greece. This is not a new problem. But it has gotten far, far worse as a result of President Barack Obama's unrestrained spending. He's thrown hundreds of billions of taxpayer dollars to unions and other political allies in the name of stimulus. Not surprisingly, the money didn't generate job growth and now we have a staggering debt which makes job growth even more difficult. This is Obama's economic legacy.
The "Super Committee" technically known as the Joint Select Committee on Deficit Reduction, is a committee of 12 bipartisan members of Congress tasked with slashing the outrageous budget deficit by approximately $1.5 trillion and creating a positive environment for job growth. The problem is that they were not able to make the cuts.
It was a tall order no matter who you are, but particularly when such strong dissension exists between Republican and Democratic members.  One of the largest points of contention, President Obama and Democrats are forcing Republicans to choose between increasing taxes on struggling businesses and individuals or cutting military spending to a point that puts our country in harm's way.
The President's current course has been to spend this country into job creation.  Sadly, for Americans, that tactic has kept the jobless rate consecutively above eight percent.  Nearly one in six Americans is in poverty.  And our military heroes are coming home from Iraq and Afghanistan unable to find work.
Many believe one of the keys to lowering the deficit and stimulating job growth is to make necessary changes to domestic entitlement programs and to lower and simplify the corporate tax code.
Lowering the corporate tax code has so many positive effects, it is time our country levels the playing field between US and non-US competitors.  The US has the highest corporate tax rate, at 35 percent, while our competitor countries  are clustered around 25 percent.  According to JPMorgan, US-based multinational companies have a least $1.4 trillion in foreign income resting abroad—that's a lot of jobs this country needs.
To our detriment, the other idea is to drastically cut our military spending, which will force our military and country into a vulnerable place.  With increasing threats from countries such as North Korea, Iran, Russia and China, not to mention the ongoing 9/11 security threats we face daily, severely cutting military spending is not the answer.
But since the Super Committee neglected to reach agreement, an automatic 50 percent cut will come directly from the defense budget.  Currently the military is dealing with aging fleets and aircraft and outdated equipment, all of which put our service members at greater risk.
High ranking military members have raised their voices to warn the White House and the message is clear—the national security budget certainly did not cause this debt crisis, nor will radical cuts fix the crisis.
The fact is the military has already cut a portion of its spending.  The results are seen across America as defense contractors, aerospace employees, and other important industry workers have lost jobs. The aerospace industry went from approximately 936,000 works in 1992 down to only 624,000 last year.
Even more perplexing is this administration's supposed push for creating jobs, yet they're willing to give the well-paying military contract jobs to companies overseas.  Take the current Air Force contract for Light Attack and Air Reconnaissance (LAAR) aircraft—a competition between American company Hawker Beechcraft and Brazil's owned and operated Embraer.  The planes are similar, the cost is nearly equivalent, but Hawker Beechcraft will be able to create over 1,400 well-paying jobs in the US.  Brazil's Embraer will employ Brazilian employees and the ship the parts of to Florida for final assembly by 50 workers.
Defense spending can create jobs in this country and it ensures our safety. Understanding the need for competition for government contracts, why on earth would we say no to the creation of 1,400 American jobs?  There is no reason.
Our country is at a crossroads both in defending itself against attacks and fixing the downturned economy.  We can do both if the right choices are made.